Using Excel for Project Management
Project Managers working on small to midsize projects can use Microsoft Excel to visualize, plan and track their projects. This may be a simple project management spreadsheet an Excel project tracker or something even more complicated like an Excel project management dashboard. For important client and executive communications Excel data can also be converted into PowerPoint slides.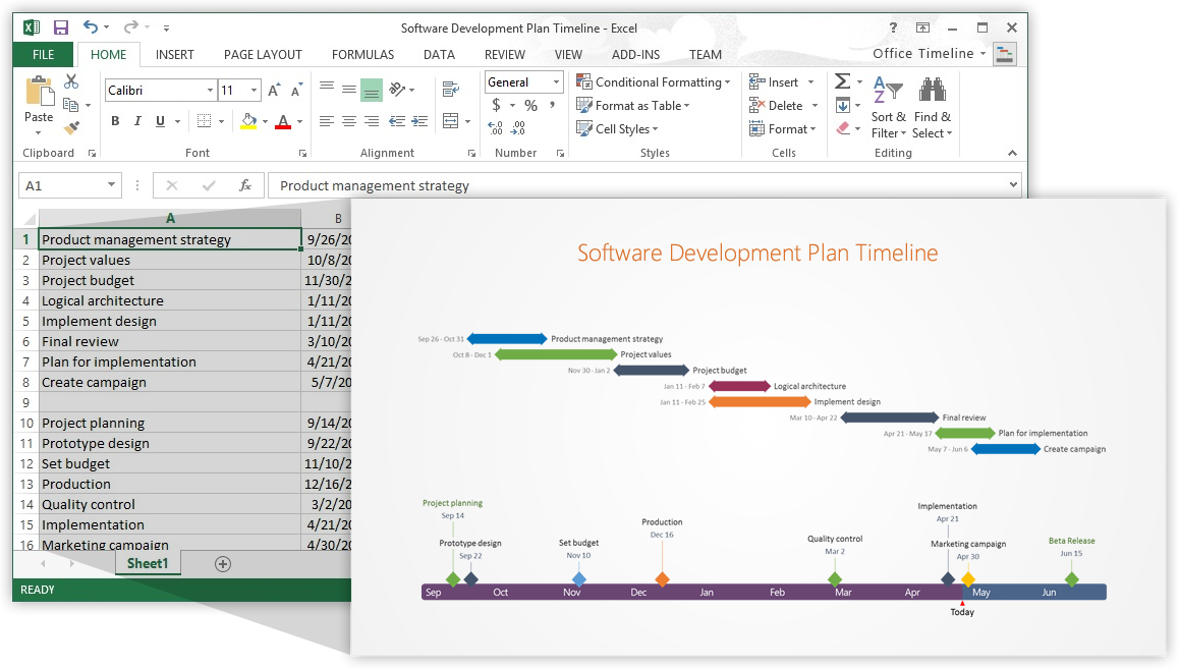 Excel Project Tracker
Project Management requires that all scheduled work or tasks are tracked. A project tracking spreadsheet is a useful visual tool to track each task's progress against the original plan. The spreadsheet should include all tasks, their status, the owner of the task, the percent complete and the planned duration versus actual duration.


Download this Excel Project Tracker
Excel-Project-Tracker.xlsx
Excel Critical Path Tracker
Project Managers need to see which tasks are dependent on the completion of preceding tasks before they can begin. To do this they can utilize a critical path spreadsheet which lists all of their tasks, the planned duration for each task and whether the task is dependent on another. This provides Project Managers a visual way to plan the quickest path for completing their project.


Download this Excel Critical Path Tracker
Excel-Critical-Path-Tracker.xlsx
Excel Milestone Tracker
Projects need to be managed on a timeline. Tracking progress toward the important events or to specific points on a timescale is a good technique for monitoring the progress of a project. Project Managers can use an Excel milestone tracker to list their critical milestones and to monitor their performance against that timeline.


Download this Excel Milestone Tracker
Excel-Milestone-Tracker.xlsx
PowerPoint Milestone Tracker
For client and executive communications Project Managers can use a PowerPoint milestone tracker to manage their
project timelines as PowerPoint visuals. The Office Timeline add-in for PowerPoint integrates with Excel to import
existing milestone data and convert it into PowerPoint slides.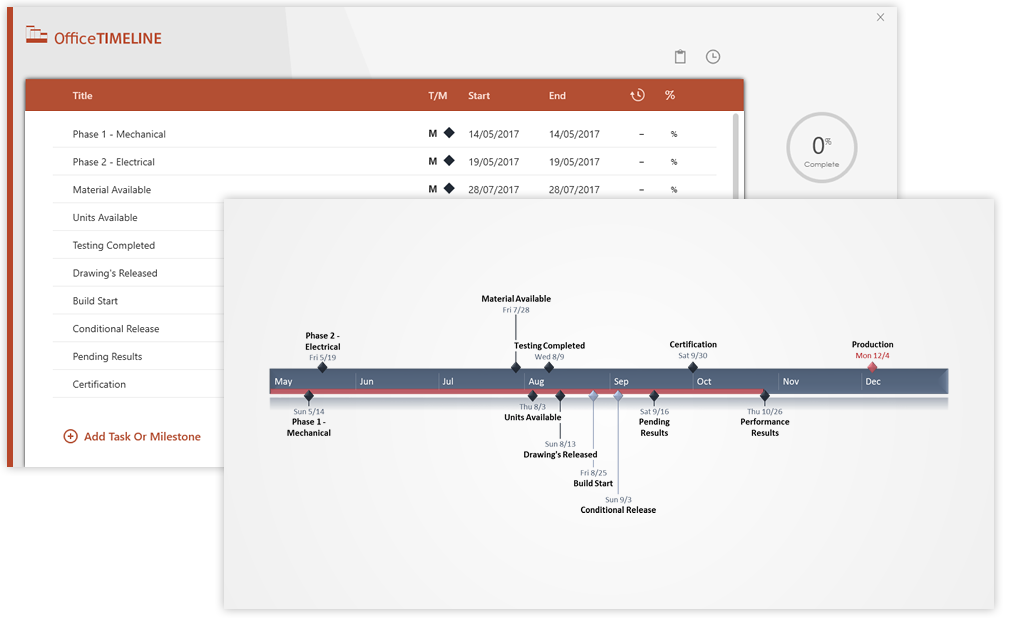 Excel Project Planner
Delivering a project requires detailed planning. Project Managers can use Excel to plan each task in their project. Project planning spreadsheets should include columns that list the task and it's owner, the start and finish dates of the task, and the percent complete of the task. To measure progress, a project planner can also include a today date marker.


Download this Excel Project Planner
Excel-Project-Planner.xlsx
PowerPoint Project Planner
Use a graphical project planning tool rather than a list based tool if you prefer to manage your project
visually or need to communicate plans and status with others. Project Managers can use the free
PowerPoint Office Timeline add-in to visually plan, track or present their work.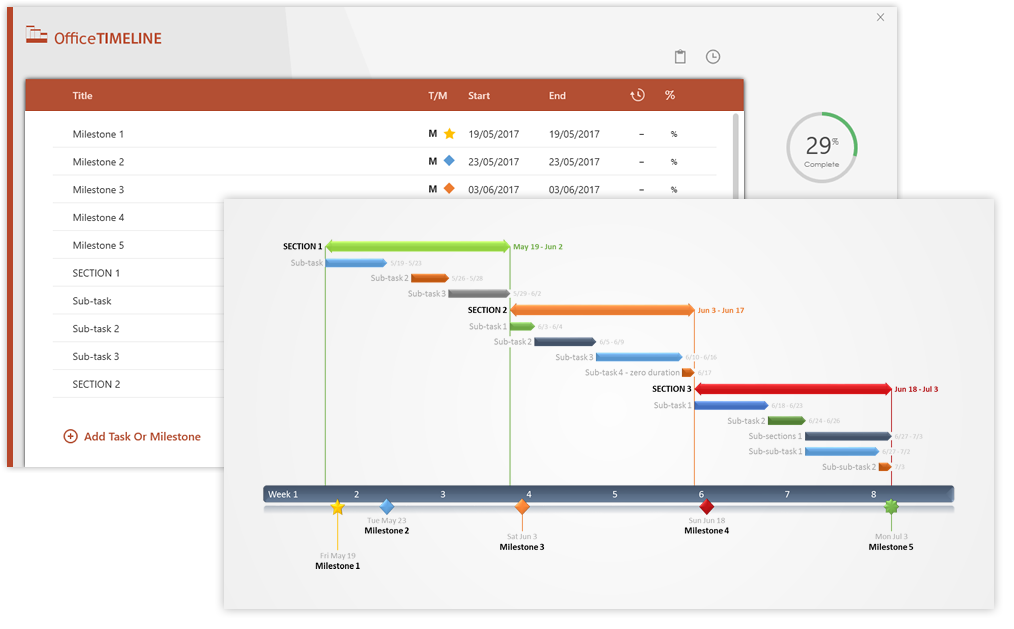 Excel Project Management Dashboard
Reporting on a project's performance may require creating a dashboard that tracks key performance metrics and other data, such as budget, risks and blockers. Project Managers can use Excel dashboards like the example below, to monitor projects, to give status reports or to provide data for stakeholder or executive reviews.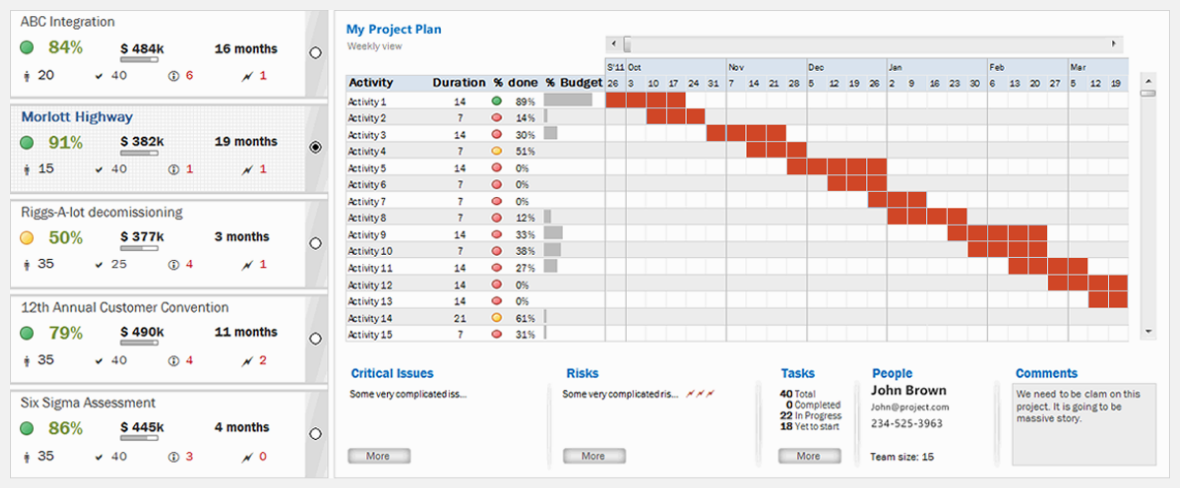 Import Excel data into PowerPoint in less than 60 seconds