Overview
Effective project management revolves around a clear timeline that acts as a reference hub for all the parts related to project deliverables and due dates. Without such a central control plan to optimize processes and track work, bottlenecks may occur, productivity decreases, and expectations get derailed.
On this page, we aim to cover the essential aspects that you need to know about managing your project timelines, including definitions, examples, and tools to create such important visuals.
What Is a Project Timeline?
Generally speaking, a timeline is a display of events arranged in chronological order over a certain time frame. It typically includes a long bar with events and their associated dates paralleling it. The bar, also called a timeband, usually relies on a linear scale in which a unit of distance is equivalent to a set amount of time. Based on the subject and data of the timeline, its timescale may span over years, months, or days.
Utility and Importance of Timelines in Project Management
Visualizing the evolution of certain events and activities over time, timelines can be used in various domains such as education, science, business and project management.
In the case of project management, timelines are used to visually represent the planned course of a project from start to finish, and they have become a centerpiece of successful project delivery. Divided into stages, tasks and subtasks that need to be completed between these two reference points, a project timeline helps everyone involved know what milestones need to be achieved and under what time schedule.
In other words, using a timeline in a project management process allows you to see the following main details about the project:
What tasks are being carried out right now;

What tasks have been already completed;

What tasks are going to be done next.
Project managers who want to optimally oversee the underlying processes always begin with a clear project timeline. To this end, many resort to various office tools like Microsoft Excel to produce such graphics. However, these can prove difficult to use or limited when it comes to creating more customized visuals, updating them in real time or easily sharing them with key team members. To enable professionals to make the most out of a project timeline, an increasingly diverse range of specialized project timeline software has been developed.
What Are the Benefits of Using a Project Timeline?
Project timelines have come to occupy a central place in project management as they significantly contribute to achieving these crucial goals:
Keeping all participants (both inside and outside the organization) updated at every stage of the project;

Holding team members accountable for their assigned work;

Effectively communicating project details, due dates, approvals, supplementary assets;

Providing more accurate estimations for project deliverables;

Improving resource management.
How to Create a Timeline for a Project
Here are the steps to follow in order to start planning a project and create its associated timeline:
Create the overall breakdown structure of your project by listing its main goals, deliverables and associated tasks. This helps you define the scope of your project and clearly outline what work needs to be done to deliver it.

Break the overall deliverables down into smaller, more manageable sub-units and milestones, and sequence them in a logical order. If the project is more complex, you can also group these to highlight its different phases.

Estimate the time required for completing each project task and assign due dates based on their duration.

Identify any dependencies between tasks and delineate the critical path of your project. By listing the core tasks that are crucial to seeing the project through and indicating how these are interconnected, everyone will know how one activity can affect another. Understanding the impact that a delay of a task can have over the whole project allows better prioritization and reconfiguration, if necessary.
Once these are determined, you can start building the actual project timeline using timeline templates, you could make a timeline&nbspwith your usual office tools, or you may opt for a dedicated timeline generator.
To find out more about how to create a timeline for a project, both manually and automatically, check out our detailed tutorials that cover the most popular office software for Windows and Mac OS:
In each of these tutorials, you'll find step-by-step instructions and screenshots to help you create timelines. You can try the manual version that takes at least 30 minutes of your time, but you can also learn how to use an automated timeline tool to cut down the time you spend creating and updating your timeline to just a few minutes.
Timeline maker for PowerPoint
Create a stunning project timeline directly in PowerPoint with just a few clicks.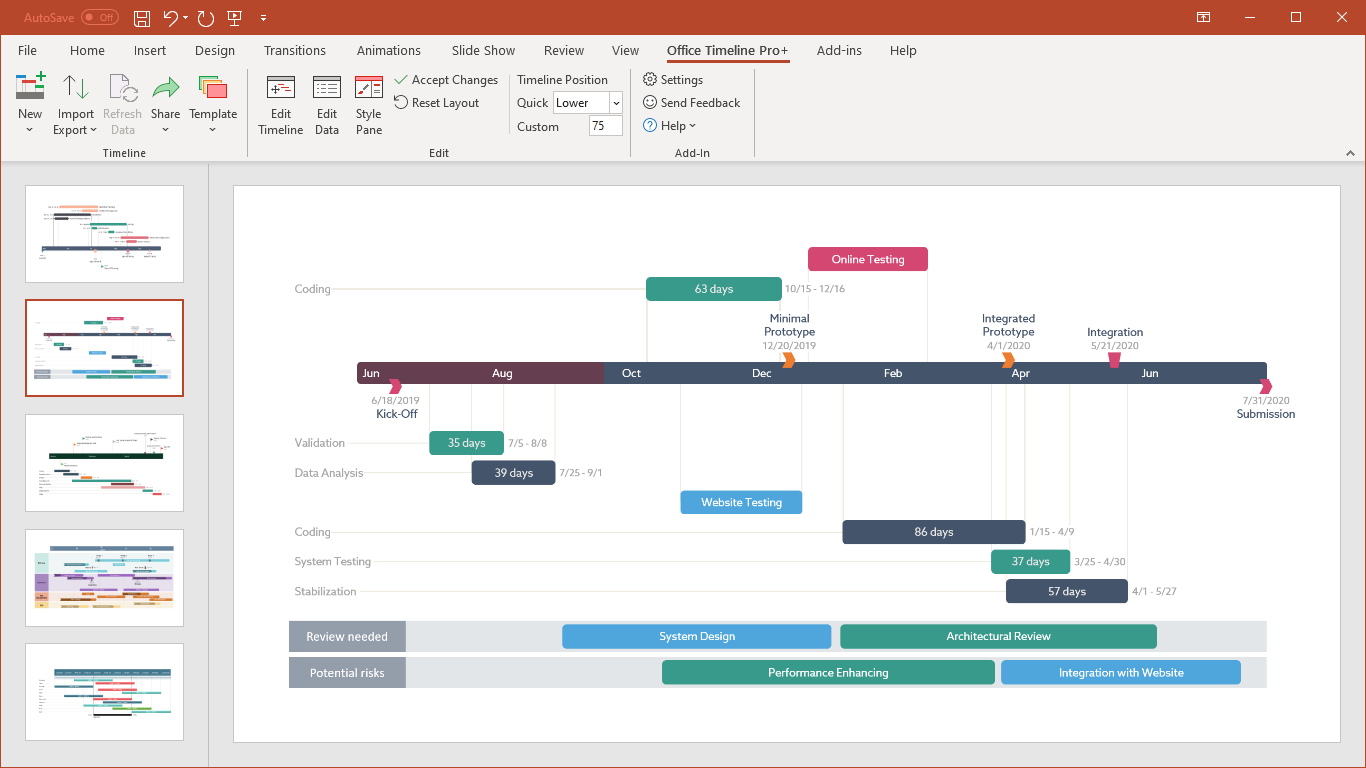 Project Management Timeline Examples
The layout of a project timeline can vary depending on the specific scope and work breakdown structure of the project in question. However, there are a few elements that a project timeline typically includes regardless of the project type:
A timeband (usually horizontal) which represents the timescale of the project;

List of underlying tasks and milestones;

Task descriptions;

Start dates;

End dates;

Task durations;

Percent complete.
To illustrate the varied formats that a project management timeline can take, we have gathered a few examples below.
Templates for Project Timelines
Project timeline templates are predefined timeline samples that users can modify and customize by simply inputting their own data into the existing frame to reflect the specifics of their project.
Why Use Project Timeline Templates?
Based on tried and tested structures that have been refined over time, project timeline templates offer a done-for-you solution which helps you save considerable time when organizing your project plan as it cuts down the guesswork for you. Providing a clear format to your data, a project timeline template helps you to turn complex information into an easy-to-follow, at-a-glance output.
Get started faster with project timeline creation using our free timeline template collection. Simply download your preferred template, enter your project tasks, milestones and dates, and enjoy your presentation-ready project timeline.
Ready-made timeline templates
Get beautiful timeline templates to customize quickly and create a presentation on the go.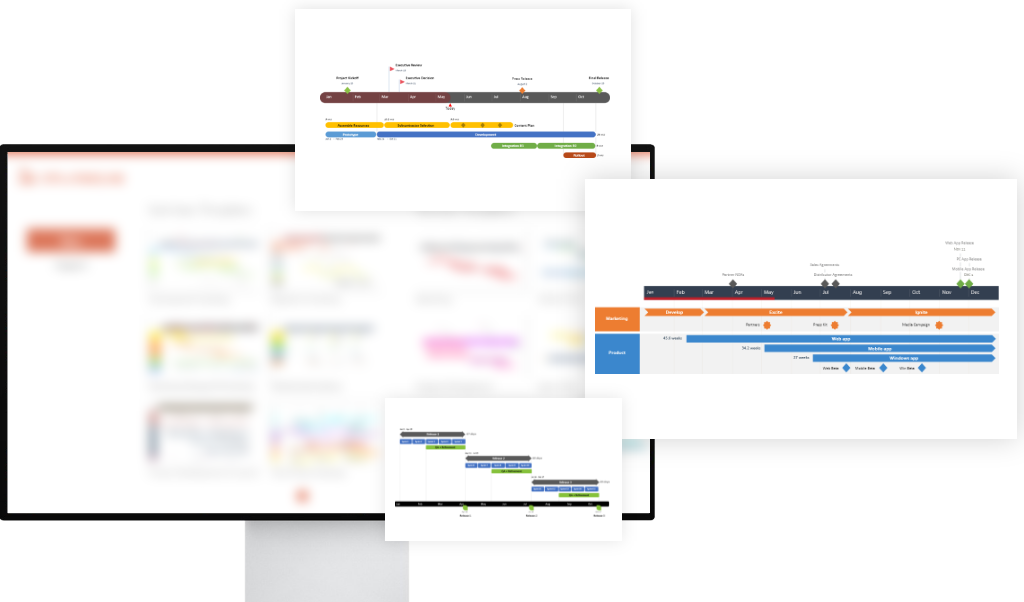 Project management timeline software refers to any type of tool that automates the creation of project timelines for you, and usually supports more advanced actions and functionalities, such as:
Adding milestones;

Setting up task dependencies;

Grouping and assigning tasks;

Importing data from multiple sources and exporting it in various format;

Refined formatting features;

Tracking progress and updating status in real time;

Flexible sharing and collaboration options.
Desktop vs. Online Project Timeline Software
If you're wondering what the main differences are between timeline software that's on premise versus the cloud and which one to use, here's what you need to keep in mind:
When you go for desktop project timeline software, you typically get a single local version per license, which is suitable for those who prefer to work individually and have no pressing need to easily share their project timelines.

Alternatively, online project timeline software is designed around the idea of easy sharing and collaborative project timeline planning. It lets your team members with no associated license access and update an online project timeline once they are invited by the license owner.
Must-Have Features of Project Management Timeline Software
Here are a few of the fundamental features that will help professionals make the most out of their dedicated project timeline maker software:
Customizable templates that can be modified, saved and repurposed for future work;

Intuitive and easy-to-use interface;

Rich range of visual elements and customization options;

Flexible data import/export functions;

Integration with other project management tools;

Compatibility with modern browsers and operating systems;

Easy sharing and diverse collaborative functionalities.
What Is the Best Software for Timelines?
Stakeholders understand your project plans better when they visualize them, which is why timeline maker software has become an essential component of project management. Whether it would be for reporting on past progress, present status, or future critical milestones to be achieved, business professionals such as planners and project managers know that using such tools is the most effective way to do it. However, choosing the best software for timelines from the variety of tools available on the market can prove challenging as it depends on the needs and requirements of each team and organization.
What is sure to work in most cases of today's dynamic project management environment is a timeline creator that provides:
Flexibility – an agile framework that allows teams to stay on track when changes occur.

Visual elements – it is important to find a system that makes it easy for teams, stakeholders and clients to gain a clear insight into progress at any stage.

Collaborative features that enhance and streamline communication between the project participants.
To further help you in finding the right fit for creating and maintaining accurate project timelines, check out this shortlist of the 10 best timeline creators.
One such solution that ensures shareable, insightful and responsive project plans, enhanced collaboration, and real-time status updates is Office Timeline. Available as both a desktop and online timeline creator tool that automatically turns project data into presentation-ready PowerPoint slides, it helps project managers save time and optimize productivity.
Save time, communicate plans efficiently and work smarter with impactful project timelines
Make timelines directly in PowerPoint with our desktop add-in for PowerPoint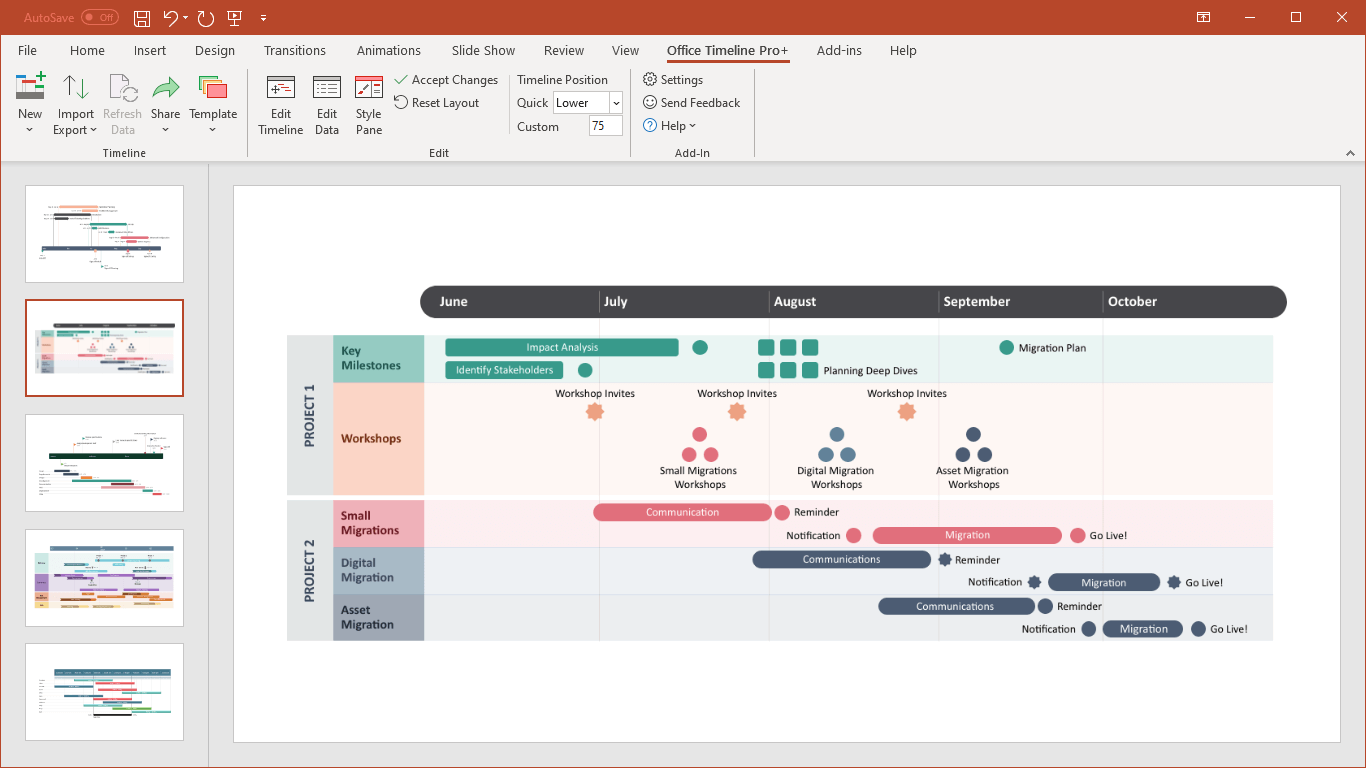 Build and share timelines simply and quickly in the cloud with our online app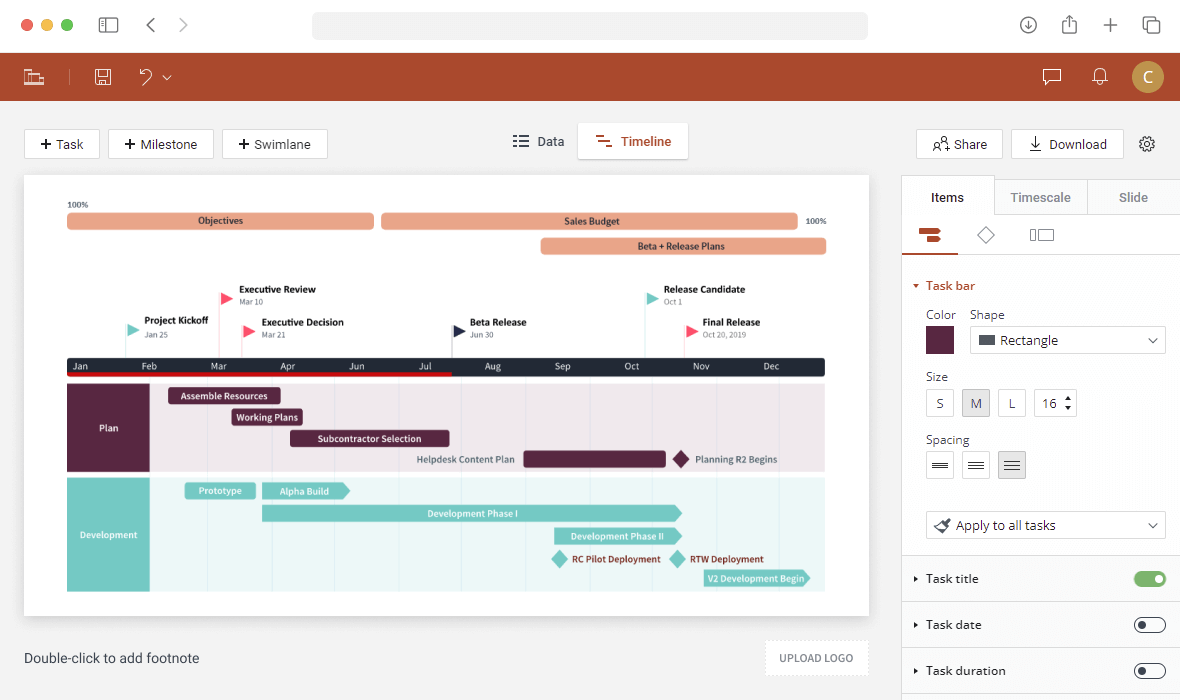 Tips on Maintaining Accurate Project Management Timelines
When done and used properly, a project delivery timeline can be a vital resource for project managers and their teams. So here are a few recommendations on effectively updating and sharing accurate project schedules that keep everyone involved moving in the right direction.
Updating Project Timelines
Project plans often change as they move forward, but with an interactive timeline that is easy to update these occurrences shouldn't derail the team's productivity. Updating dates manually can compromise the accuracy and distribution of your timeline, so using an agile tool to automatically adjust dates and reflect the latest shifts is recommended.
Choose a timeline maker that allows defining task dependencies and/or features drag & drop functionality so you can easily update a date and move any dependent tasks along.
Sharing Project Timelines
When mapping out a cross-functional project timeline, always try to carefully consider any handoffs between departments and teams so you can ensure a streamlined transition. This calls for project timeline software that focuses on centralized communication, collaborative features, and enhanced visualization through swimlane frameworks.
Frequent Questions about Project Timelines
Here is where you can find the answers to the most frequently asked questions about project timelines.
What is a project timeline called?
A project timeline is also called a project schedule or, sometimes, a Gantt chart. Regardless of the name used, it usually takes the form of a horizontal bar chart that lists a series of activities in chronological order, letting project managers view the entirety of a project in one place.
Where can I get different timeline templates for PowerPoint?
Office Timeline, a timeline maker add-in that is natively built in PowerPoint, provides a wide range of timeline templates that can be customized right into the presentation platform. To view and choose the best PowerPoint timeline templates for your project, check out our template gallery.
Where can I find a good timeline creator tool?