3. When to Use a Balanced Scorecard – Approach, Conditions for Successful Implementation
Offering a useful framework for tracking and managing strategy, the balanced scorecard has proved to be applicable in numerous sectors and industries and to organizations of all kinds and sizes (commercial, non-profit, government, healthcare and more). It is typically handled by leadership teams at an executive or division/department level. However, its successful implementation heavily depends on the chosen approach and other several factors that we will be discussing below.
The balanced scorecard approach
To establish the right approach, an organization first needs to identify its leading (driver) and lagging (outcome) indicators. These act as barometers of succes and signal whether a company is accomplishing its goals. Once these have been outlined, the next step in implementing a balanced scorecard is to decide whether:
you start from scratch or modify what you have;

you do it yourself or have a third-party, outside source do it for you.
Starting from scratch with your balanced scorecard involves:
defining the overarching mission, vision and key goals of the company;

putting objectives and initiatives together into a strategy map that tells the company's story;

deciding how you are going to measure and manage the balanced scorecard data.
These are the essential factors that ensure the successful implementation of a new balanced scorecard:
Leadership buy-in – given that a balanced scorecard is not a project, but a change in the way things are managed, you will need the full commitment of your leadership team to make this process work.

A common agreement among the members of the leadership team on the purpose for which the balanced scorecard is needed (why you are doing this).

Developing the right metrics and performance targets for each of the four perspectives so you can then collect and analyze relevant data. This way, your scorecard will allow the efficient review of strategy management based on measurement.
Depending on whether the BSC is created internally or externally, the following requirements act as important criteria for a positive outcome:
If you are doing it yourself
Strong communication skills to ensure your leadership team is on the same page and to sort through the differences, where their views differ;

The ability to work across all departments;

Ideally, some experience in the BSC or performance management.
If you are getting outside help, this party needs to:
Understand your business and your industry;

Be great facilitators and able to work with your leadership in the timeline you've set;

Have experience with balanced scorecards;

Have the flexibility to meet your needs, because not every BSC is the same.
Modifying what you already have
This is the recommended approach when you already have:
With these initial "ingredients" already established, the BSC is validated and you only need to adjust or add new initiatives and/or measures to support the existing framework. The key is to ensure consistency throughout your strategic documents and measurement systems.
4. How to Build a Balanced Scorecard in 5 Steps

The easiest way to create a balanced scorecard is by using a scorecard template. However, there is a common standard process to follow in order to effectively draw a traditional balanced scorecard from scratch. This involves the 5 steps below:
Determine the vision and create a purpose statement – place it in the center of the balanced scorecard. No matter which area of your company is under scrutiny, it should always relate to this core vision that translates the main external outcome you want to achieve.

Add the four perspectives and design a change agenda – place these four perspectives in a ring around the central vision and, for each of them, identify the areas that need improvement or change for added value.

Define the strategic objectives and initiatives that will help drive your strategy – when articulating your objectives, you need to keep in mind that these have to be:

- expressed through a verb ("increase", "reduce", "optimize" etc.);

- actionable (it should be an element which you can control and do something about);

- continuous (since balanced scorecards are about ongoing improvement, an objective shouldn't be a one-time or deadline-type of event);

- measurable (it should be possible and easy to quantify).

Set measures for your objectives – for each of your objectives, choose one or two aspects that you will measure to determine how it is performing. For example, if your objective is "increase acquisitions", a useful measure would be "the number of new purchases".

Connect each piece (create a strategy map) – use arrows to show how each perspective is interconnected to the others in terms of achieving the company's vision. By doing so, you demonstrate at a glance how various short-term actions contribute to your company's long-term strategic objectives (the cause-effect chain).
Once created and even with a well-designed initial implementation, the BSC takes time to start yielding visible results since it will necessitate regular updates as new challenges emerge. For enterprises to learn, adapt and improve based on ongoing feedback, it is critical that they constantly track and manage their balanced scorecards. Thankfully, a variety of specific tools have been developed for this purpose, thus supporting the continuous management of strategic plans.
5. Balanced Scorecard Examples in Different Industries
To illustrate the theoretical concepts presented above and to help you better understand how balanced scorecards work, we have gathered a few balanced scorecard examples used in various industries.
Manufacturing Scorecard Example
Software Scorecard Example
Government Agency Scorecard Example
Healthcare Scorecard Example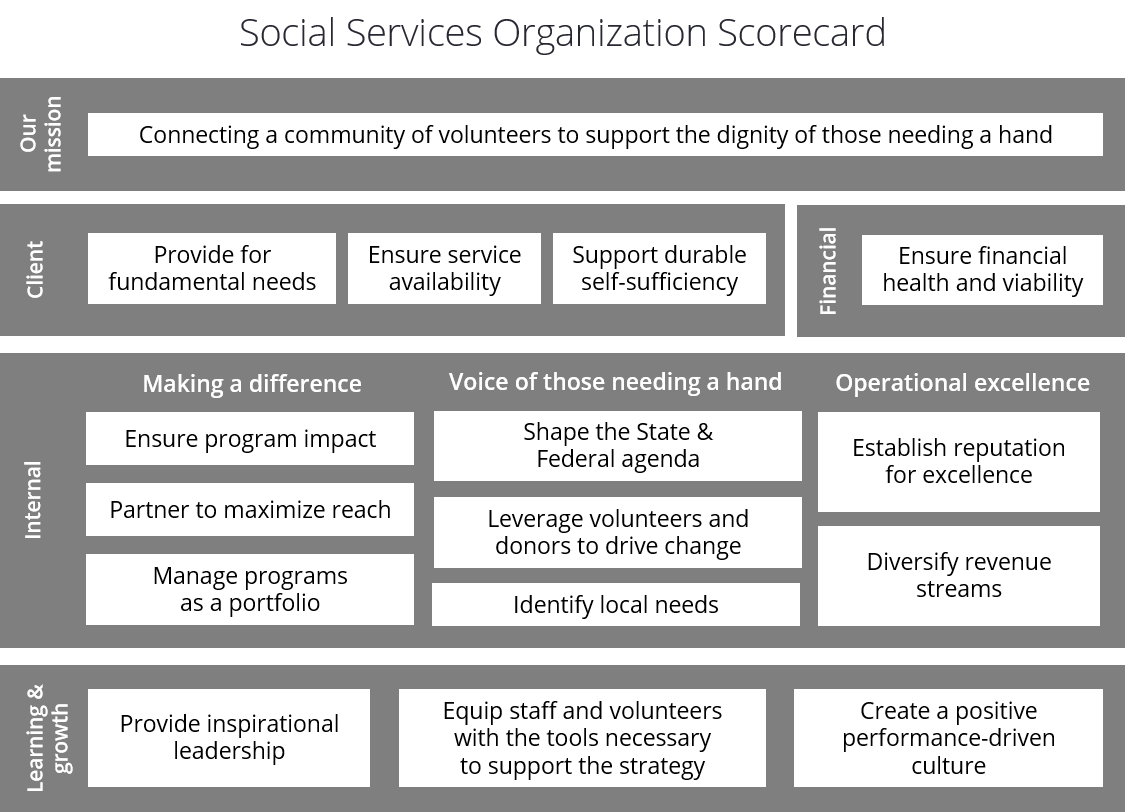 Non-Profit Scorecard Example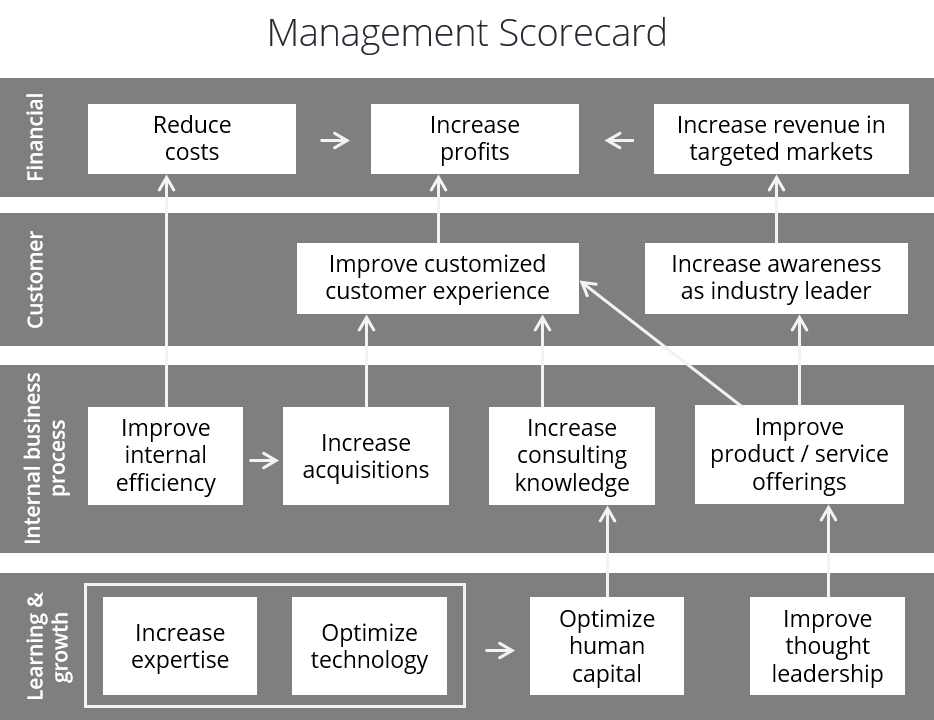 Management Scorecard Example
Download These Scorecard Examples
You can easily customize these scorecard examples with goals and objectives that fit your organizational needs. Download the PowerPoint file and modify or add any shapes, text or connectors on the slides.
DOWNLOAD POWERPOINT SLIDES
For more resources regarding the creation of a balanced scorecard, please check out our dedicated section on balanced scorecard tools.