Task management methodologies that work
There are several major approaches to managing a team's tasks. While many of the popular methods were designed for software development projects, they can be applied successfully in other fields as well. In fact, they may be some of the most efficient techniques, because they were conceived by professionals who desperately needed to work fast, stay organized, and deliver on time.
Below are a few commonly-used task management systems explained.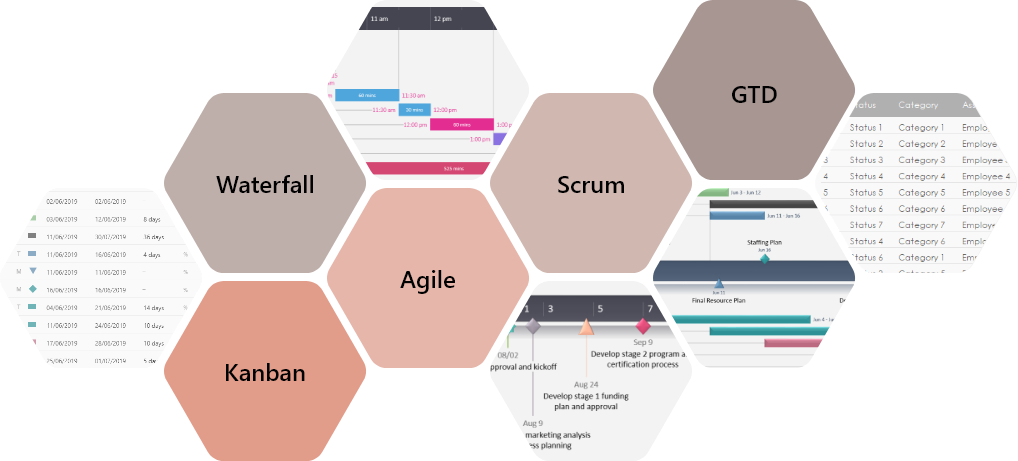 1. Waterfall
One of the more traditional task management methodologies, waterfall is a linear approach that requires extensive planning. Tasks are defined in full up front and then executed in sequence, with each phase having to be completed before the next one can begin.
With work carefully planned and delivered in a single cycle, the waterfall system has the advantage of being predictable and very straightforward, but it doesn't provide much flexibility. This is why it's best fitted for large projects that require keeping strict deadlines or for repetitive activities that have little chances of surprising you along the way.
2. Agile task management
Although often described as such, Agile is not exactly a task management technique, but rather a philosophy or a set of principles, initially devised for software development projects. The main four values described in the Agile Manifesto are:
Individuals and interactions over tools and processes
Respond to change over implementing a plan
Customer collaboration over contract negotiation
Working software over detailed documentation
With Agile, teams cycle through processes of planning, execution and evaluation as they go along. Project tasks are conceived and adjusted as the situation demands, rather than having everything set in stone from the start as in the Waterfall system. This makes Agile best suited for incremental projects or goals that have a higher level of unpredictability and complexity.
3. Scrum task management
A form of Agile task management, Scrum advocates empowering a small, self-organizing team to define roles and responsibilities and prioritize tasks. In Scrum, there are fixed-length iterations known as sprints that last for one or two weeks, at the end of which the team needs to deliver specific segments of the project and plan for the next iteration.
This task management method provides flexibility and enables the team to gain a clear insight into the status of the project, allowing them to accurately judge roadblocks that may hold them back. However, there are high chances of failure if not all individuals inside the team are experienced enough, cooperative, and committed to the work.
4. Kanban task management
Quite similar to Scrum, Kanban focuses on self-managing teams and early releases. Lighter on processes, Kanban is visual and flexible, doesn't have prescribed roles, and aims to improve output by increasing the team's focus on tasks that really matter. The system is ideal for smaller teams working in contexts where task priorities can change often – for instance, maintenance or operational environments.

The model uses a Kanban board to represent the different stages of development, and Kanban cards to depict tasks in the work process. In its simplest form (pictured above), the board's structure has three columns:
Cards are moved through these columns as work on tasks progresses, painting a clear picture of the workflow process and allowing everyone to see what's coming up next. This makes it easy to reprioritize, limit work in progress, prevent stalling, and uncover problems early on.
5. GTD task management
Created by productivity consultant David Allen about the same time as Agile appeared, GTD (Getting Things Done) took the world by storm when it was first published. It is an idea-capturing and task management system based on the principle that "the head is for having ideas, not holding them." The method aims to declutter the mind and improve productivity by transforming ideas into physical actions. Here's how it works:
Collect absolutely all tasks that need to get done at any point, adding more tasks to the list the moment they come in.
Clarify and organize the tasks. What isn't actionable will be moved to a "Trash" list, while what can be done in under two minutes should be done right away. Whatever tasks take longer will be prioritized and scheduled, and those that require multiple actions will be broken down into smaller, easier to manage pieces.
Review often. Setting aside time to review and update the task lists at least once a week is key to the effectiveness of the system.
Engage. Choose your next task and get to action. The system should make this easy, as the tasks are categorized, prioritized, and broken into small chunks that are easy to start.
Although originally intended for individual task management, GTD can work successfully in team environments as well. It will provide a common "language" and set of principles to the whole team, while allowing members to implement those principles in a way that works best for them.
What task management system should you choose?
Choosing a task management method depends on a variety of factors, from the complexity of the work, flexibility of the timeline, and the stakeholders' involvement, to the team's size, culture, and even aversion to change. Usually, to find the right fit, managers don't make the decision on their own - they collaborate with the team members to select the approach that would bring the the most benefits to everyone.
One thing to remember here is that the task management systems presented above are not mutually exclusive - they can be mixed together successfully to fit each team's particularities and preferences. Here is an example of such a mix:
The Agile principles can be used as a general mindset for progressing quickly.
GTD can be applied for defining, organizing and prioritizing tasks.
Kanban can be used as a way to visualize and track the tasks.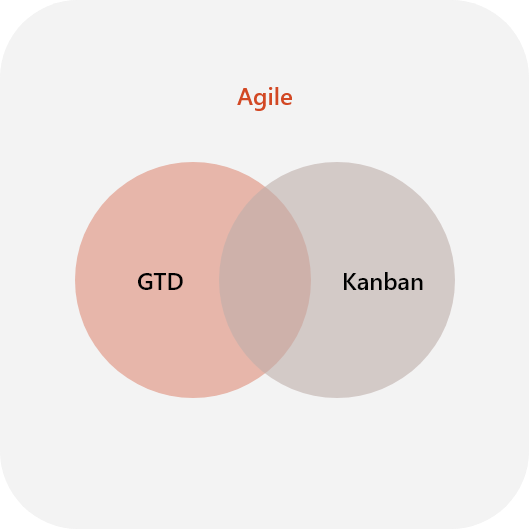 Task management tools: free templates and software
From simple spreadsheet templates to complex task management software, there are a variety of resources available that can help professionals manage tasks more easily. Below we'll take a quick look at them and provide a few free task tracking tools professionals might find useful.
Task management templates
Easy to document and consistent, task management templates can help save time and replicate work quickly for regular reviews and reports. Usually created for popular office tools such as Excel or PowerPoint, they are familiar to everyone and don't require learning new software to maintain them.
The drawback of templates is that, in the case of large and complex projects, they can become challenging to update. In such cases, an option would be to import them into simple task tracker apps or task management tools that support such integrations and update them there.
Professionals working on small to mid-sized projects can find useful Excel and PowerPoint templates in our free task management template gallery. The Excel spreadsheets include formulas and simple charts to automate task planning and tracking, while the PowerPoint slides are designed to be visual and easy to follow, suitable for communications to high-level audiences.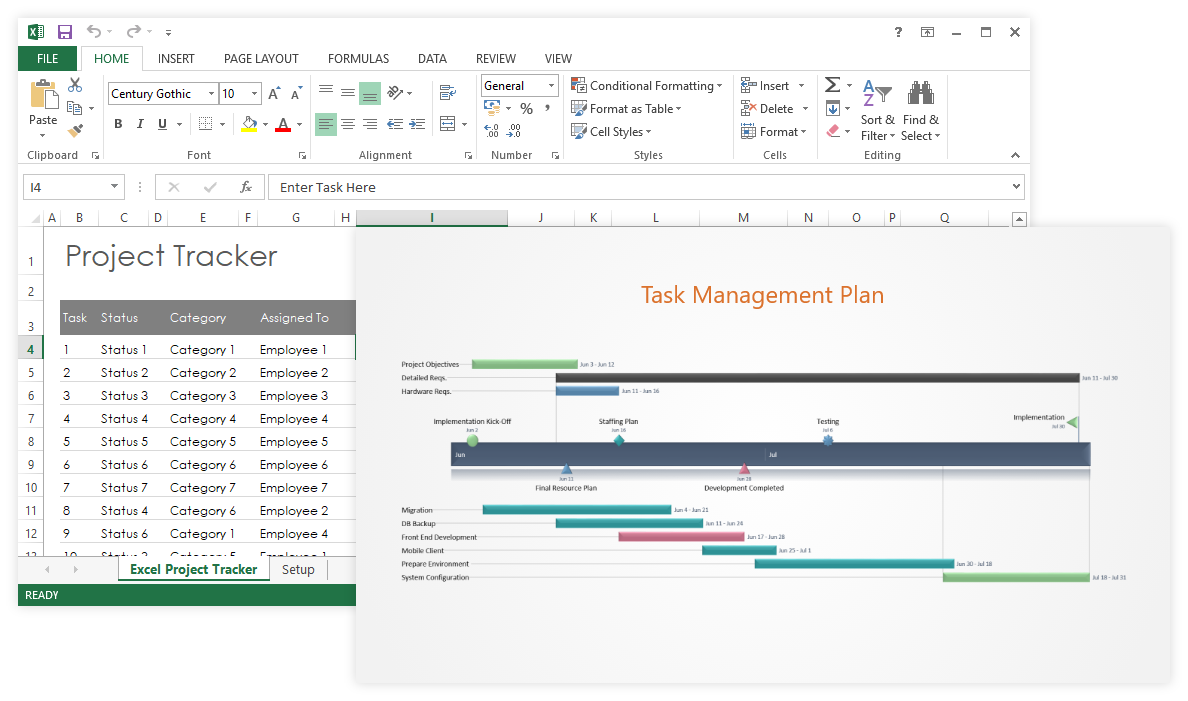 Task management software
Providing more versatility and automation than templates, well-chosen task management software can improve productivity and help team members and stakeholders stay on the same page. The variety of task trackers available on the market today ranges from simple list-based tools to robust applications for handling large projects delivered by dispersed teams. It includes online task manager software, collaboration and notification-based tools, visualization tools and a number of simpler free task manager apps.
In evaluating task management tools, users should first assess the size and complexity of their project. Simpler projects with small teams may find enterprise project management software too complex, while teams working on massive projects will most probably find simple to-do-list tools unusable.
Those looking for the middle ground can try Office Timeline's lightweight task manager for PowerPoint. It is a free add-in that automatically turns raw task data into simple-to-understand Gantt charts and timelines, enabling users to easily organize, track and update their tasks. Additionally, the task tracker can import schedules from existing Excel files, and it also has a web-based version for those who prefer to manage their tasks online.