What Is a Gantt Chart?
A Gantt chart is a type of bar chart commonly used in project management to visually represent a project schedule. The tasks to be performed are typically displayed on the vertical axis of the Gantt chart, along with their time intervals on the horizontal axis. The position and width of the horizontal bars on a Gantt chart reflect the start date, duration and end date of each planned activity.
Due to its dynamic layout, a Gantt chart allows you to see at a glance:
All the activities/events that make up the work-breakdown structure of a project;

When each task begins and ends;

How long each activity is scheduled to last;

Where and by how much some activities overlap with others;

How tasks are grouped or linked with one another (dependencies);

The critical path of the overall project.
To recap, a Gantt chart is a planning tool applicable to projects of all sizes that indicates what work is scheduled to be done and when, making it easier to visualize plans, coordinate efforts and track progress.
Gantt Chart History
Although they are frequently used in project planning nowadays, Gantts charts were revolutionary when introduced. The invention of the Gantt chart is generally attributed to American engineer and management consultant Henry Gantt because he was the one to popularize this type of visual in western countries around the years 1910 - 1915. However, what he did was to simply refine a previous version called harmonogram, which was originally devised by Polish engineer Karol Adamiecki in 1896.
The earliest Gantt charts were drawn on paper and didn't include interdependencies, which meant they had to be redone from scratch whenever a schedule change occurred. Given that continuous change is a feature of most projects, the usefulness of the first Gantt charts was limited. However, the development of computers and project management software in the 1980s led to Gantt charts being created, updated and printed more and more easily.
As of the late 1990s, with the advent of the Internet and increased communication over networks, Gantt charts became part of web-based collaborative groupware and one of the most widely used tools for project scheduling and control. Today, with the ongoing refinement of project management systems, modern Gantt charts give a more dynamic representation of project plans because they also show:
interdependencies;

what resources are being used for each task;

who is responsible for which task;

current schedule status and project progress through percent-complete shadings and a vertical "today" line.
Creating Gantt Charts
When it comes to creating a Gantt chart to effectively visualize and communicate project schedules, professionals have a varied array of options to choose from to achieve this goal. These are:
Gantt chart templates – these help project managers get started faster, offering a pre-built model that can be customized to fit the specifics of their project.

Traditional office tools commonly used in a business environment such as Microsoft Project or Microsoft Excel – as these "standard-issue" productivity platforms are already familiar and include features to produce such visuals, many users opt for them. Check out these tutorials to discover the steps you should follow to create Gantt charts manually:

Dedicated Gantt chart software - whether we are talking about desktop or online Gantt chart makers, such tools come with a host of functions that allow you to automate the process of creating, customizing and updating your Gantt chart.
Regardless of the type of solution chosen, there are a few important steps project managers need to take before creating the actual Gantt chart to reflect their project schedule:
Create activities - the overall work package needs to be broken down into several units.

Sequence activities - this involves placing the project tasks in the right order using the right relationship among them; every task, except the initial and final one, has a predecessor and successor. Based on this, there are four types of relationships that can be set between tasks:

Finish to Start – the successor cannot begin until its predecessor is finished.

Start to Start – the successor cannot begin until its predecessor has started.

Start to Finish – the successor cannot be finished until its predecessor has started.

Finish to Finish – the successor cannot be finished until its predecessor has finished.

Estimate resources – in order to properly establish the duration of each activity, you need to identify all the available resources (e.g. labour, material, equipment).

Estimate durations – once the task sequencing and resources have been reviewed, project managers have to estimate how much time is needed between the start and end of an activity.
Easy Gantt chart maker
Transform your complicated project data into stunning Gantt charts with the Office Timeline add-in for PowerPoint.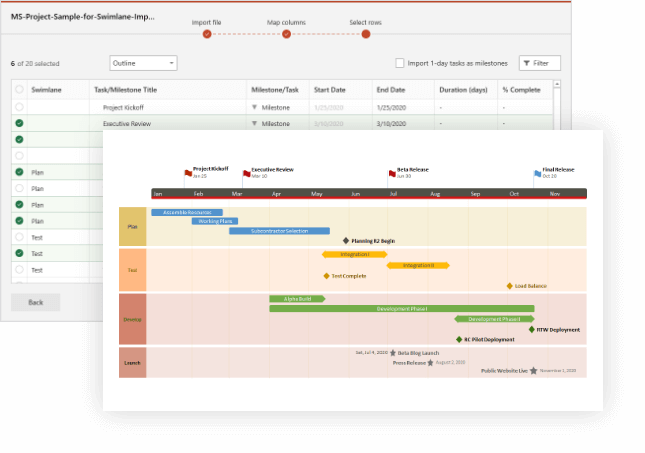 Gantt Chart Examples
With such a diverse range of projects that can be undertaken, the layout of Gantt charts has come to vary depending on their specifics. However, no matter what the nature of your project is, a Gantt chart should typically include:
To illustrate the various structures a Gantt chart can take from one case to another, we have gathered a few examples below.
Gantt Chart Templates
What Is a Gantt Chart Template?
A Gantt chart template is a generic pre-made model of a bar chart that you can use to build your own graphic by simply adding your specific data to the existing frame. It provides users with a predefined structure that can be customized with their own input.
Why Use Gantt Chart Templates?
Using a Gantt chart template helps you get started faster with Gantt chart creation and saves you considerable time when organizing your project plan as it tackles the tedious work for you. Lending a predefined, clear format to your data, a Gantt chart template simplifies the processing part and turns complex information into a straightforward output.
Set up your first Gantt chart fast and easily with our free Gantt chart template collection. Apart from the Gantt chart PowerPoint templates available, we also offer Excel templates. All you need to do is download the template, plug in your project tasks and dates and you will have a presentation-ready Gantt chart.
Ready-made Gantt chart templates
Dozens of professionally designed templates that are easy to customize with your project data and company branding.
Gantt Chart Software
What Is Gantt Chart Software?
Gantt chart software, also called project management or project scheduling software, encompasses any type of tool which automates the process of creating Gantt charts, and which supports more advanced features and requirements such as:
customizable templates;

data import/export functions;

refined formatting options;

adding milestones;

creating task dependencies;

task assignment;

tracking progress in real time;

updating the project schedule with drag & drop functionality;

identifying the critical path of a project.
Desktop vs. Online Gantt Chart Software
Desktop Gantt chart software usually refers to tools with a single local version per user license, and is suitable for professionals who prefer to create project schedules individually and with no pressing need to easily share them.
Online Gantt chart software, on the other hand, places a strong focus on easy sharing and collaborative Gantt project planning. Being stored in the cloud, it allows you to invite team members with no associated license to access, view and update an online Gantt chart.
Benefits of Using Gantt Chart Software
Dedicated Gantt chart tools come with many benefits as they enable you to:
Plan, schedule and better visualize the critical path of any project plan;

Plan and schedule tasks within a single project or across multiple ones;

View tasks over time and efficiently schedule your team's assignments;

Plan in sprints and optimize workload;

Improve team collaboration and productivity;

Determine planned versus actual timeline of a project and track progress in real time.
What Is the Best (Free) Gantt Chart Software?
Many project managers use traditional programs such as Microsoft Project or Excel as their Gantt project planners because these systems are familiar and part of the regular office productivity tool package. However, they often prove limited in meeting the requirements of the modern management of Gantt projects. The need for shareable, presentation-ready project plans, enhanced collaboration, and real-time status updates calls for more sophisticated yet agile solutions.
As a consequence, an increasingly diverse range of purpose-built and even free Gantt chart software has been developed to help professionals save time in the scheduling phase of a project and maximize their efficiency in delivering the actual work. One such free Gantt chart maker is Office Timeline. Available as both a desktop and online Gantt chart tool, it allows users to automatically turn their project data into clear, presentation-ready Gantt chart PowerPoint slides that can be easily shared and updated in real time.
You can use the tool's rich gallery of templates, import function, drag & drop interface and powerful features to generate stylish visuals with a few clicks. Enjoy the familiarity of PowerPoint and the flexibility of a collaborative web tool to build professional-looking Gantt charts and other project visuals.
Create impressive Gantt chart slides with just a few clicks
Make Gantt charts directly in PowerPoint with our desktop add-in for PowerPoint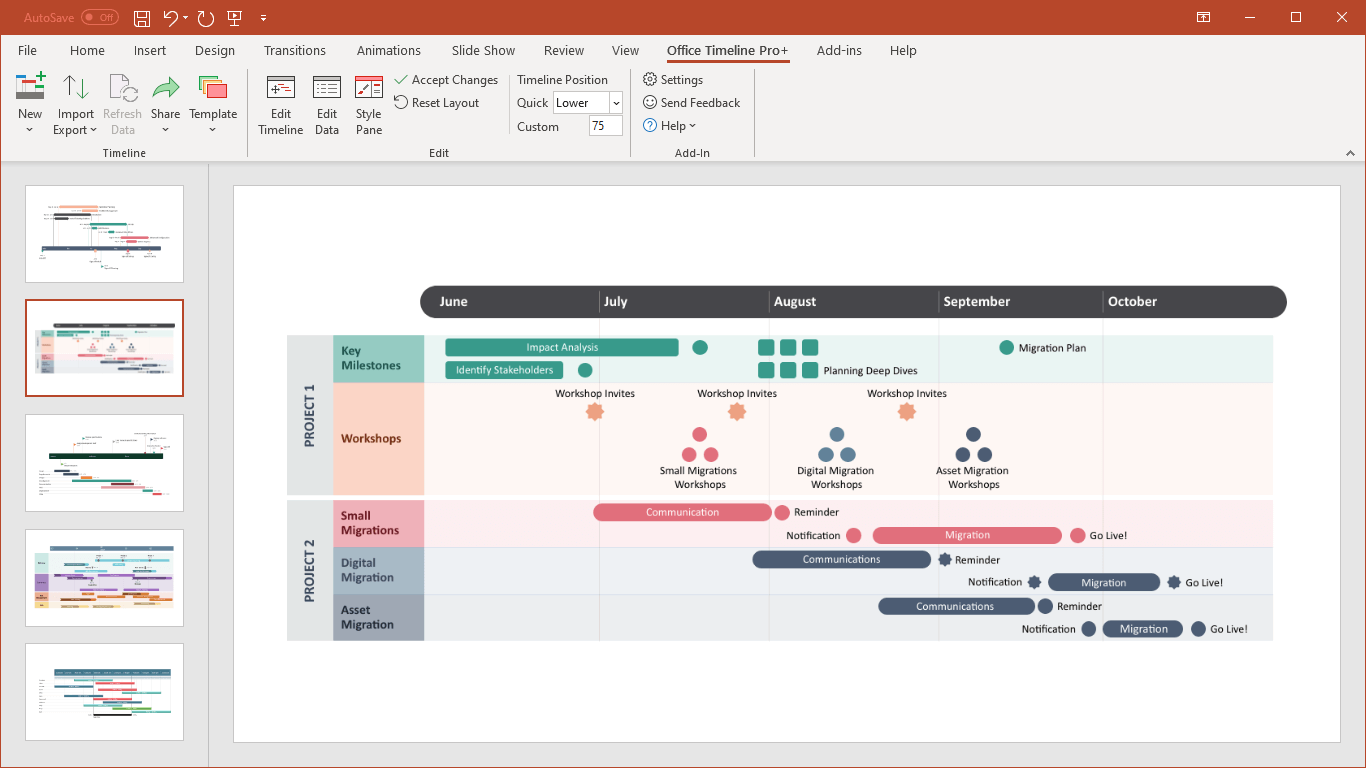 Build and share Gantt charts simply and quickly in the cloud with our online app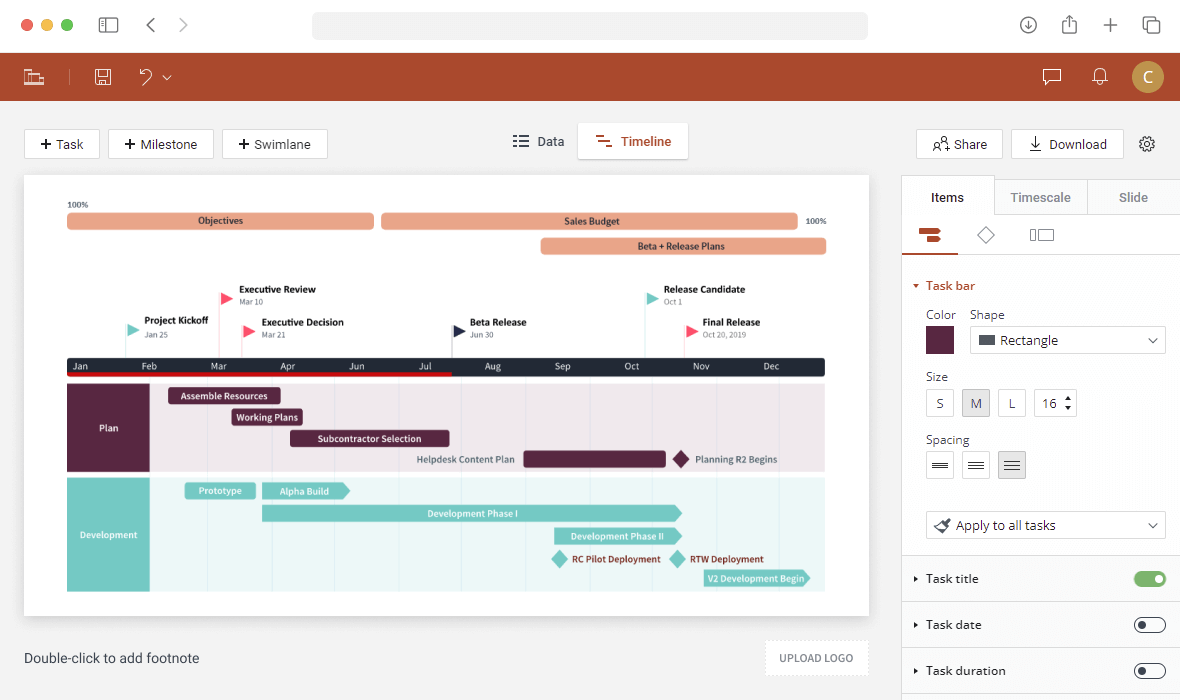 Frequently Asked Questions about Gantt Charts
Here are the answers to the most frequently asked questions in relation to Gantt charts.
What Is a Gantt Chart and Do You Have a Sample?
A Gantt chart is a type of bar chart that illustrates a project schedule by displaying the underlying activities (tasks) and events (milestones) against a certain timeframe. To better understand what a Gantt chart looks like, check out our website section dedicated entirely to a variety of Gantt diagram examples.
How Does a Gantt Chart Work?
A Gantt chart works as a diagram with two axes – a vertical and a horizontal one. The vertical axis of the Gantt chart displays all the activities (tasks) to be completed, whereas the horizontal axis represents the time scale set for your project. Each activity is represented on the Gantt chart through a task bar, the position and width of which reflect the start date, duration and end date of the activity. Due to this layout, a Gantt chart lets you know what work needs to be done and when at a glance.
What Is a Gantt Chart Used for?
Show project tasks and their corresponding timeframes in a simple visual format;
Communicate work schedules in a dynamic yet structured way;
Easily share and manage tasks;
Effectively coordinate efforts;
Track project progress.
How Do You Create a Gantt Chart?
To create the outline of a basic Gantt chart, you need to do the following:
Break the project workload down into a series of main activities;
Order these activities in a logical sequence to ensure the delivery of the project;
Estimate and allocate resources for each of the tasks involved;
Create task descriptions and estimate their duration, by giving them a start and an end date.
Once this information is ready, you can turn it into an actual Gantt chart using
Gantt chart templates
,
various office tools
like Microsoft Project and Excel, or a dedicated
Gantt chart maker
.
How Do You Create a Gantt Chart in Excel?
List your project schedule in an Excel table with four columns: Start Date; End Date; Task Description; Duration (expressed in days).
Add a Stacked Bar chart to your Excel spreadsheet from the Insert menu.
Add your worksheet data (the start dates, durations and descriptions of your tasks) to the chart using the Select Data function.
Format your stacked bar chart to look like a Gantt one using the Format Data Series function.
For a more detailed explanation on how to build and customize a Gantt chart in Excel, please refer to our full
Excel Gantt chart tutorial
.
Why Is It Called a Gantt Chart?