Use PowerPoint templates to effectively communicate product plans to stakeholders
Product Planning is a comprehensive practice that starts with identifying a need and moving through a process of qualitative and quantitative research toward a conceptual design. The PowerPoint templates on this page are not intended for those early planning phases. This page is meant to be a resource for later stages, specifically these 3 critical parts of product planning:
1. Product Roadmap - Creating the strategic vision
In product planning, a roadmap is developed by product managers, typically with input from teams across the organization, including sales, marketing, engineering and the leadership team. It should be a high-level visual that easily communicates the product's strategic vision, direction, and timeline to any stakeholder throughout an organization. They are used to align and orchestrate cross-organization functions such as product development, product launch and product marketing.
The most popular and familiar presentation format for product roadmaps is Microsoft PowerPoint. The PowerPoint roadmap template below is intended for product managers who need to present a high-level product strategy view to executives and partners. The roadmap template is flexible, intended to be a dynamic tool in the process, and can be easily maintained as the roadmap changes.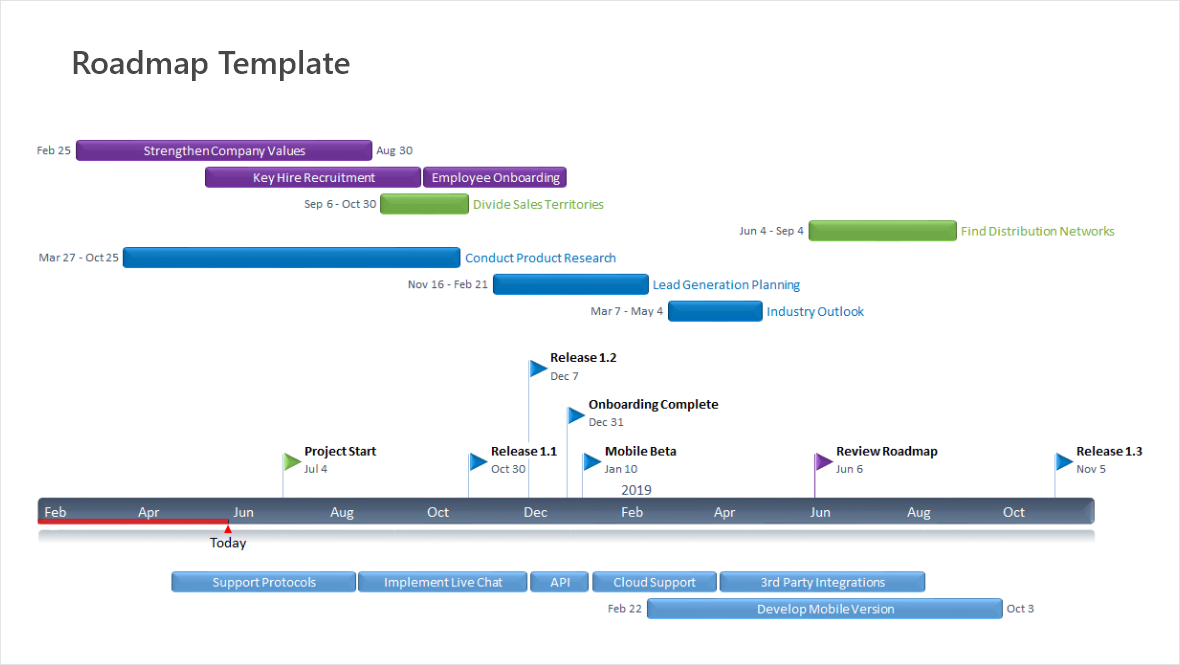 Download this roadmap template
Roadmap_Template.pptx
PowerPoint Product Planner
Product plans and roadmaps change constantly over their lifecycles. Planners and product managers need to promptly adjust roadmap visuals as things change. Office Timeline is a Product Planning tool built into PowerPoint for quickly creating and updating executive-level plans that are easy to understand.