Using timelines to communicate key events
Timelines are a great way to visualize a series of events that happen over time, making it easy to understand and remember essential data. Professionals who need to create eye-catching timelines for important presentations can use their favorite office software, since almost all of the traditional productivity tools have functions that can produce such visuals one way or another.
Since the steps to making a timeline can get quite complex, this page presents a series of detailed tutorials and resources to help you get started faster. Browse through the page to get a glimpse at the guides available for each tool or use the menu above to jump straight to the application you want to use for building your visual.
PowerPoint is one of the most popular tools for presenting data to clients, managers, and any other non-technical audiences. It is familiar, intuitive, and widely spread in organizations of all types, allowing anyone with the Microsoft Office Suite installed to view and edit a project report or presentation. Click the icon or link below for a step-by-step guide on how to make a timeline in PowerPoint.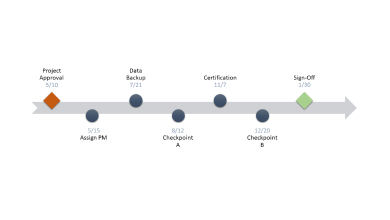 Professionals who prefer to plan and track their projects in Excel can use the tool's Scatter Chart function to turn their plans or schedules into a timeline. The process involves quite a few steps to make the graphic look tidy and presentable, and the result looks similar to the following image. Click the link below to see a detailed tutorial on how to build a timeline in Excel.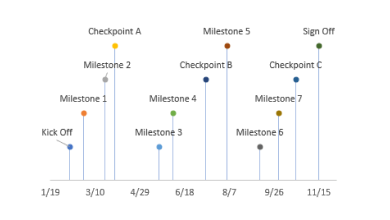 Although commonly associated with writing and editing copy, Microsoft Word also provides some simple graphic tools that can help users create basic timelines and other similar visuals. This step-by-step tutorial demonstrates how to make a timeline in Word using SmartArt Tools and provides a few customization tips to make the visual easier to follow.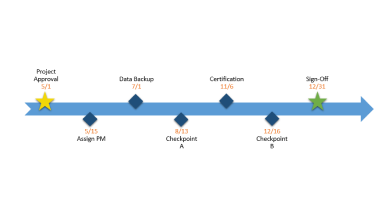 Professionals who manage complex plans in Microsoft Project can use the tool's functions to create an overview timeline that shows only the key milestones of their project. See a detailed tutorial that explains all the steps involved in building the timeline and preparing it for high-level presentations.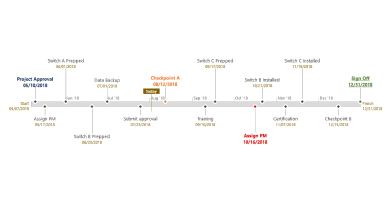 PowerPoint Timeline Maker
For client and executive communications, professionals can use a PowerPoint timeline maker to build eye-catching visuals in less than 2 minutes. The Office Timeline add-in for PowerPoint integrates with popular productivity tools to instantly turn project data into timeline slides and update them on the fly.