Using templates for task management and tracking
Project managers and team leaders working on small to mid-size projects can use pre-built templates to manage their team's tasks manage their team's tasks more easily. Task management templates provide a starting point that can be used again and again, saving you from having to reinvent the wheel every time you need to create a plan, track task progress, or report status to clients and execs.
On this page, we have collected a series of free task tracker templates for Excel and PowerPoint to help professionals get started faster. Browse through all of them or use the links below to jump straight to the template category that suits your needs best.
Free task management templates for Excel
With its handy grid format, formulas, and data filters, Excel is commonly used for making schedules, analyzing data, and tracking task status. Although not ideal for advanced project management, task management spreadsheets provide a good framework for planning and monitoring small projects. They're compatible with other applications outside the Microsoft Office suite, which makes them easy to share and synchronize across task manager apps .
Below you can find a few Excel task tracker templates, from simple list-type spreadsheets to more complex visual tracking frameworks.
Project Management Task List Template
With so many variables in a project, a simple task list such as the one below can help professionals organize their work, prioritize it, and see at a glance when each individual task is due. The free project management task list template allows users to assign a status to each task, sort assignments into multiple categories, and see exactly who's responsible for what. It also calculates the tasks' planned and actual durations automatically, enabling teams to easily make comparisons and see if work is progressing as scheduled.

Excel Task Tracker Template
This Excel task tracker template was designed for project or task managers who wish to apply Scrum principles when planning and monitoring their team's tasks. The free task tracker spreadsheet splits tasks into short sprints for easier management and allows users to define priorities, see task status at a glance, and track assignments as they are completed. It also includes a simple Gantt chart that auto-updates whenever the data in the task list changes.

Task Management Spreadsheet Template
Effective task management requires precise knowledge of all assignments and the time remaining for completing them. A task management spreadsheet like the one below can help teams track their tasks by the hour and organize their work more efficiently. The template automatically calculates the hours left for finishing each task, shows the percentage of work already completed, and highlights the tasks that are overdue. In addition, this task tracker spreadsheet also estimates the assignments' start and end dates and displays them on a Gantt chart, providing an overview of the whole project.

Free task management templates for PowerPoint
Excel task tracker spreadsheets are good for ensuring clarity and alignment within the team, but, when communicating to high-level audiences such as clients or upper management, professionals may find that they need something more graphical. In such cases, PowerPoint task management templates might prove more efficient, as they can show summarized data on a single visual slide, in a manner that's easy to digest. Below you can find a few such templates to get you started.
Free Task Planner Template
This free task planner was built for professionals who need create an executive-level view of their project tasks for client meetings or project proposals. Designed as a simple Plan-on-a-Page, it is a Gantt chart that uses color codes to group tasks by categories or departments, making it easy to see key data at a glance. Download the free task planner template file and edit it manually in PowerPoint or use the Office Timeline PowerPoint add-in to automate the process and update it effortlessly.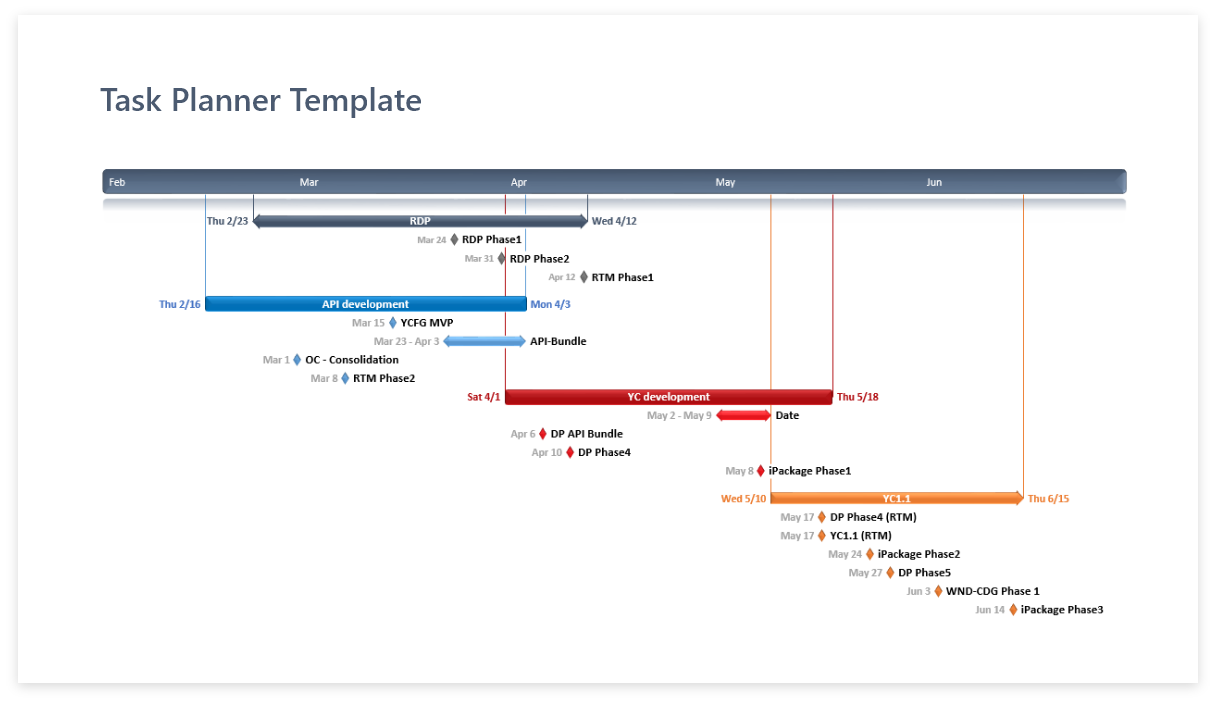 PowerPoint Task Tracker Template
Clients and execs usually don't have the time to read lengthy documents or untangle complicated task management spreadsheets to see how a project is progressing. To efficiently communicate task status to high-level audiences, project managers and team leaders can use a more familiar PowerPoint slide such as the one below. This task tracker template keeps things simple by providing only essential tracking information such as the due dates of key tasks, percentage complete, or important events along the way. The free task tracker can be downloaded and edited in PowerPoint and updated easily as plans change.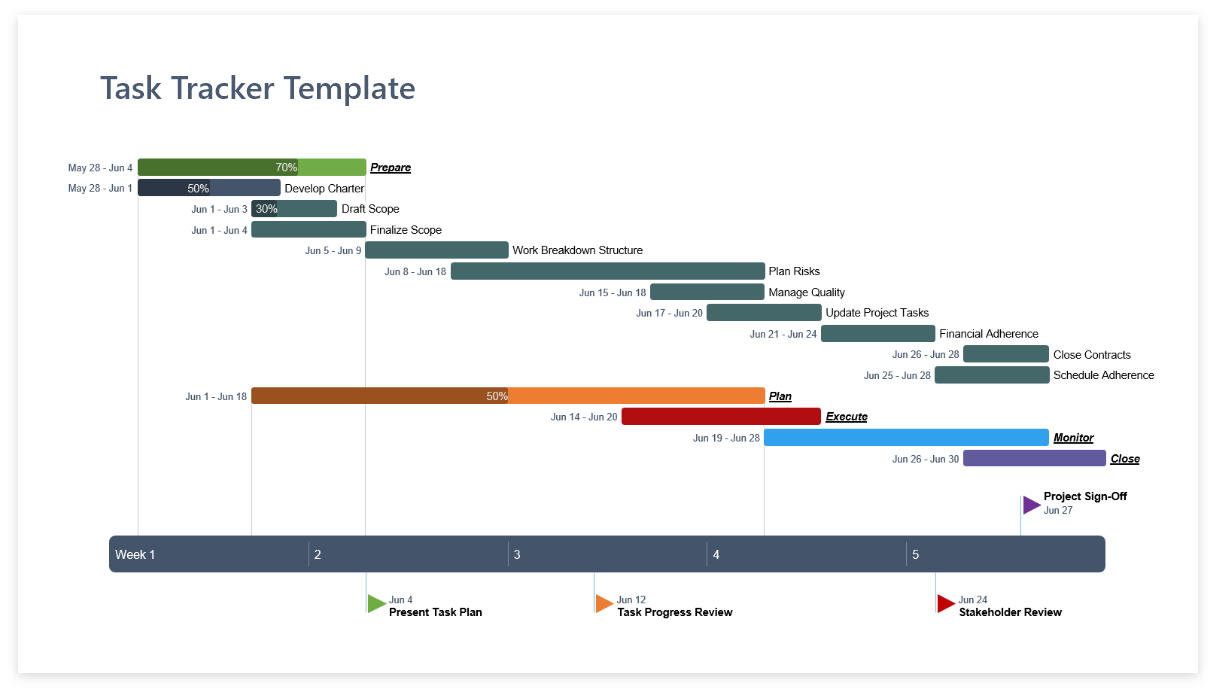 Agile Task Management Template
Agile task management is an iterative, incremental approach to managing projects, often used in software development. The methodology focuses on delivering work fast and in small increments, while incorporating feedback from customers in each iteration. This allows the team to easily adapt to changing requirements and ultimately deliver higher quality products that satisfy customers' needs better. This agile task management template is ideal for team and client communications, allowing you to effortlessly keep track of your project's tasks. Built directly in Microsoft PowerPoint, the template can be edited and shared easily with anyone who has the popular presentation tool installed.