Retail solutions provider buys into Office Timeline
Perusing a list of Aptos clients is like reading a "Who's Who" of the retail world. Not only are there companies from every slice of the retail pie - apparel, cosmetics, footwear, sporting goods and more - but big names, like Bed Bath & Beyond, CVS, J.C. Penney and Trader Joe's. Yet the list also includes scores of niche companies, including Tumi, Tommy Bahama, Movado and Michael Kors.
Aptos serves these clients by providing a comprehensive suite of cloud-based tools and services to support nearly every aspect of their retail operation, including merchandise and assortment planning, CRM systems, point of sale, retail merchandising, enterprise order management, and forecasting and replenishment. Although the company manages hundreds of client projects at any given time, it had no central mechanism for clearly presenting to executives which tasks were underway, their individual completion dates, and how they fed into the larger project.
Need for a standardized reporting tool
Like many other laws of business, Aptos' workload abides by the 80/20 rule, according to Head of Global PMO Peter Taylor, where 80 percent of each project, on average, is based on preconfigured solutions, and about 20 percent is customized for each client. The company's sweet spot lies in its ability to forge partnerships with clients, working collaboratively to configure technology solutions that work to fill each client's individual needs. The goal for Aptos is not only to deliver a smooth technology experience, but actually to improve its clients' sales by introducing a more positive shopping experience for customers.
The lack of a centralized format for reporting project status internally, however, was a major drag on operations. "There is a need for project managers to talk about their projects on a very granular level within their organization, in a format analogous to a Gantt chart," says Taylor. "Since management has a very short timeline during which to absorb a tremendous amount of information, they are most concerned about the overall health of each project and any areas of particular concern."
Without a dedicated tool for project mapping, project managers were left to their own devices. "They would usually end up manually throwing together a PowerPoint slide or Excel upload, both of which are very clunky and difficult to update. Since each change to the timeline had to be applied individually to every subsequent task on the chart, it became really time-consuming and not an effective way to work," says Taylor.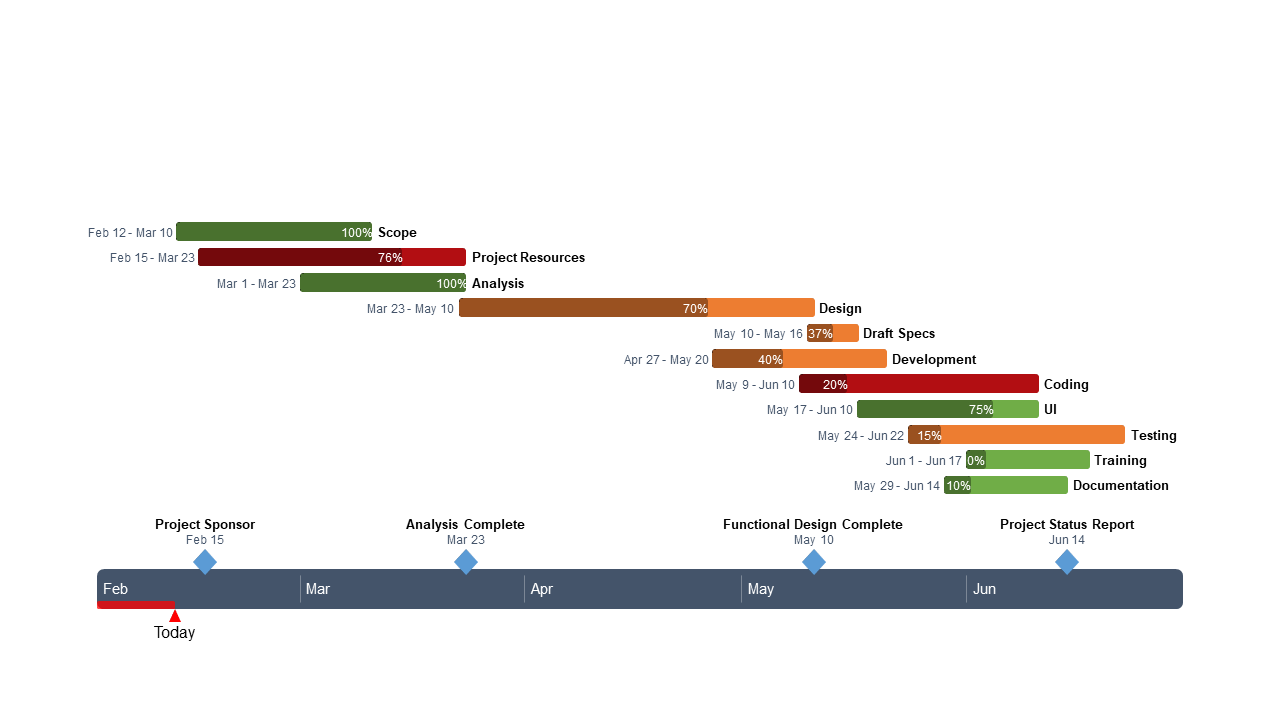 Aptos discovers Office Timeline
Somewhat fortuitously, a project administrator at Aptos, based in North America, came across Office Timeline—the perfect antidote to the company's standardization challenge. She loved the simplicity of the product; since it was a direct plug-in to PowerPoint, it worked easily with her existing software and was intuitively simple to use. Impressed by the product's capabilities, she quickly incorporated the tool into the PMO reporting requirements for her group.
Word of the new Office Timeline software spread rapidly within Aptos and Taylor quickly became its biggest champion. "The minute I got my first look at the product and saw the revolutionary changes it could bring to our project reporting process, I knew that including it as part of our PMO toolkit was a complete no-brainer," he said. "The product was simple, visual, strong on color and simplicity, extremely easy to edit and inexpensive to boot. I absolutely loved it right from the beginning."
Since that time, Office Timeline has become an integral part of the project reporting process within Aptos. The rollout was "very, very simple," according to Taylor, and a global training program cemented the new software's place in the company's project reporting structure. Taylor's team also developed a standard Office Timeline template with predetermined colors, styles and formats, which all groups within the PMO have adopted. "In the end, we wanted our presentations to be about the data, without the distractions of multiple competing formats," he said.
A boost for productivity
Office Timeline has had huge implications for productivity at Aptos, with Taylor estimating that the time it takes executives to review each project has dropped by about half. The company not only has been able to streamline reporting procedures for each individual project, but has also greatly simplified the reporting process itself.
Under the old paradigm, there were four directors around the world who "owned" all the PMs. Each PM typically had 8-10 more junior PMs below them, each managing between three and five individual projects worth $100,000 or more. The four directors each spent an hour and a half on a weekly call with their group, reviewing any project issues that needed to be addressed.
Under the new model, the same number of projects are reviewed on just two weekly calls—one in North America and one in Europe. "Since we know we can't cover all of the projects at this high level, we prefer to manage by exception, asking ourselves 'what are the major projects or problems that can't wait another week?' Office Timeline has been integral to this process by helping us absorb a great deal of information much more quickly." After each weekly call, the decks are posted on a shared site for reference so that regardless of when people look at the material, it will never be more than a week old.
Taylor is thankful—but not surprised—that the adoption of Office Timeline went as smoothly as it did. He received virtually no push-back from staff throughout the global implementation. "Our PMs are so busy working with clients, developing new software and updating project plans, that they are quick to grab onto any product that will make their lives easier," says Taylor. "With Office Timeline, it was a 'win-win' for everyone involved."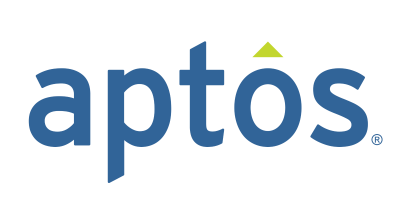 Aptos provides advanced Cloud solutions to 500 major apparel, specialty and general merchandise retailers—marquee brands you see in almost every major mall and when you're shopping online.
With its singular commerce platform, Aptos develops and markets the systems that let retailers plan and manage merchandise efficiently in all channels and enable their customers to enjoy seamless experiences through all shopping journeys—to continually drive loyalty, profitability and growth.
Office Timeline is helping us absorb a great deal of information much more quickly. With Office Timeline, it was a 'win-win' for everyone involved.
Timelines and Gantt charts made easy
Office Timeline helps you quickly turn complex project files into clear PowerPoint visuals that your audience can understand.
Get your free 14-day trial
No risk, no obligation, no credit card